2011.04.28 22:37:52 (*.32.254.199)
428848
Do-it-yourself Educational Robot Kit, which includes everything you need for making robots.
Design, build and program your own walk of life!
Description
Bioloid Beginner Kit
Bioloid Comprehensive Kit
Bioloid Premium Kit
Main Image
Main Controller
CM-5
CM-5
CM-510
DYNAMIXEL
(servomotor)
AX-12A : 4EA
AX-12A : 18EA
AX-12A : 18EA
Sensor
AX-S1
AX-S1
GYRO, DMS, IR
S/W
BIOLOID SOFTWARE
BIOLOID SOFTWARE
RoboPlus
Power

NIMH 9.6V Battery Pack
SMPS 12V 5A

NIMH 9.6V Battery Pack
SMPS 12V 5A
LIPO 11.1V Battery Set
SMPS 12V 5A
Remote Control
RC-100 +
ZIG-100 set (Option)
RC-100 +
ZIG-100 set (Option)
RC-100
ZIG-110 set (Option)
Manual
Quick Start (14 robots)
User's Guide
Quick Start (26 robots)
User's Guide
Quick Start (3 robots)
e-manual (26 robots)
Usage
Education(School)
Education(School/Univ.)
Entertainment
Education(School/Univ.)
Competition/Entertainment


Build various robots using Bioloid which is upgraded with powerful humanoid functions and software!

Bioloid, the most advanced robot system equipped with gyro sensor, IR sensor, and DMS sensor

Dynamixel and Controller for External Expansion Sensor CM-510

Worldwide Bioloid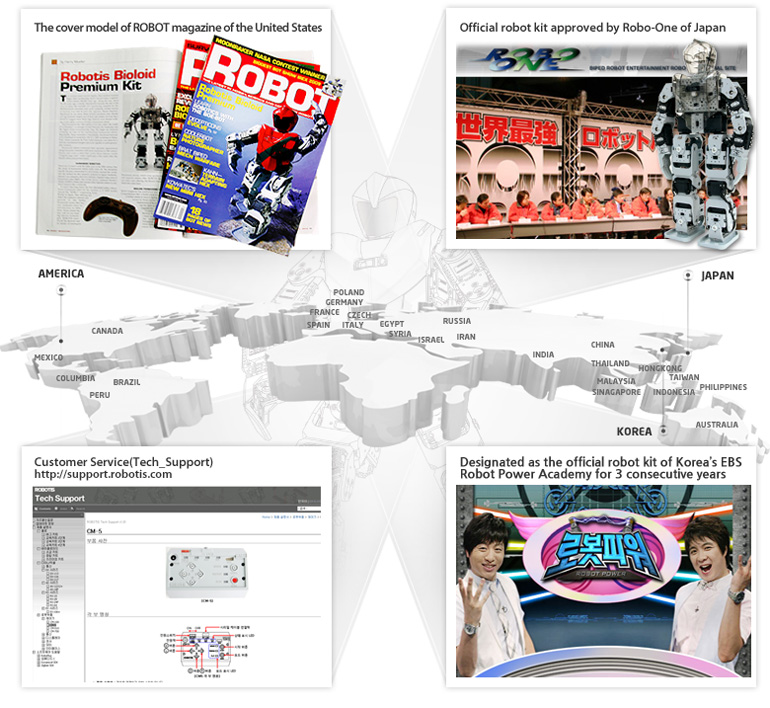 Check this out!
Bioloid includes gyro sensor, DMS sensor, and multi-channel wireless expendable remote controller. (Based on Premium Kit) Please make sure that it is easy to insert and take out the batteries; the cables are arranged safely;
it has outstanding compatibility.


RoboPlus(exclusive robot software)and C Language Solution
RoboPlus is an icon-type, C language-based, and easy-to-use software for users who do not understand computer program languages. The motions and behaviors of robots can be programmed and managed with the software.
The users can learn the structure and the grammar of C language eventually while using RoboPlus.
In addition, various C language program examples are provided for experts.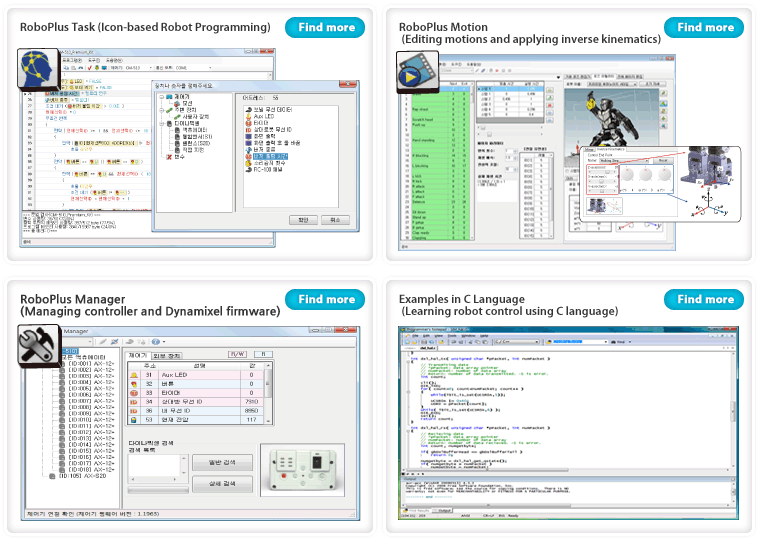 The Optimal Material for Robot Class
It is the most suitable educational kit to be used for the classes and team projects in secondary schools and universities.
Power Point materials for weekly classes will be made available soon. (For Educational Bioloid)


Types of Bioloid Kit

Bioloid Premium Kit
It is the upgraded and latest version of Bioloid Comprehensive Kit

[Components]

-CM-510 (Main Controller): 1 piece

* CPU: ATMEGA 2561
* Internal I/O Device: 6 buttons, Mic, Temperature sensor,
and Voltage Sensor are included
* External I/O Device: GP I/O & 6 of 5P I/O port for analog sensor
installation AX-Series Dinamixel connector: 5 pieces
* Mode Display & AUX LED

- Robot Exclusive Servo Dynamixel(AX-12A): 18 pcs
- 2-axis Gyro Sensor: 1 piece
- DMS Sensor: 1 piece
- IR sensors: 2 pieces
- RC-100(Remote Controller): 1 piece
- Skin Set for Humanoid
- Li-Po Battery (11.1V, 1000mA/PCM) : 1 piece
- Battery Charger
- USB2Dynamixel
- Quick Start Book (3-types of humanoid robot examples are provided)
- Screw Driver, Cable Holder
- RoboPlus CD



[Merits]
1) Excellent walking humanoid (Self-Adjusts posture while walking)
2) Various sensors including Gyro, Distance, and IR
3) RC-100(Remote Controller) is included (IR-default, Zigbee-optional)
4) C-style programming & motion teaching with RoboPlus S/W (USB interface included)
5) Semitransparent humanoid skin for customization
6) Digital packet communication with daisy chain topology
7) Build various robots through versatile expansion mechanism
Robots in Premium Kit (Click the pictures below to see videos)